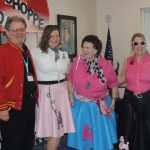 September 2, 2014
Victoria Landing turned back the clock to the 1950s with an old-fashioned Sock Hop.  Residents came to the party decked out in poodle skirts, scarves and sunglasses they had created in their craft classes throughout the month of August.
Great entertainment offered some wonderful classic rock n' roll tunes that brought residents and staff to their feet.
Chef John created a 50's inspired menu with mouthwatering burgers, hotdogs, hand-cut onion rings and fudge brownies.  There was even The Elvis Sandwich—peanut butter and banana on white bread—in honor of the King! Later, he served root beer floats and chocolate malts.  It was so delicious and perfect for the summer afternoon.
Our special guest, Bob Underwood, pulled up in his classic 50's Chevrolet and camper.  Everyone marveled at his painstakingly perfect restoration and the car was a great backdrop for reminiscing about the 50's.
Our official sock hop poodle, Cassie, was also decked out in her skirt and bow and wandered through the crowd posing for pictures.
What a great time at Victoria Landing!