Victoria Landing Is Licensed Through The Agency For Health Care Administration (AHCA).
Our Care Services
Our Standard And Limited Nursing Services Licenses Allow Us To Assist Our
Residents With The Following Services:
Personal Care Services
Offered under our Standard License – These services may be conducted by licensed and unlicensed personnel.
Assist with the activities of daily living
Bathing
Dressing/Grooming
Continence/Toileting
Nutrition/Eating
Mobility/Transferring
Assist with the self-administration of medication
Redirection and cueing due to cognitive deficits
Daily safety monitoring
Behavioral support
Monitor residents' wellness
Communicate with healthcare practitioners
Record and monitor daily vitals
Nursing Services
Offered under our Limited Nursing Services License – These services must be conducted by a licensed nurse.
Conducting passive range of motion exercises
Applying ice caps or collars
Applying heat, including dry heat, hot water bottle, heating pad, aquathermia, moist heat, hot compresses, sitz bath and hot soaks
Applying and changing routine dressings that do not require packing or irrigation, but are for abrasions, skin tears and closed surgical wounds
Caring for stage 2 pressure sores
Conducting nursing assessments by a registered nurse or under the supervision of a registered nurse
Assisting, applying, caring for and monitoring the application of anti-embolism stockings or hosiery as prescribed by the health care provider and in accordance with the manufactures guidelines
Caring for casts, braces and splints
Administration and regulation of portable oxygen
Applying, caring for and monitoring a transcutaneous electric nerve stimulator
Assistance with already placed catheter, colostomy, ileostomy care and maintenance
Choose from Four Spacious Luxury Apartment Floorplans.
And Start Every Day with a Spectacular View!
What Makes Victoria Landing in Melbourne, Florida Special?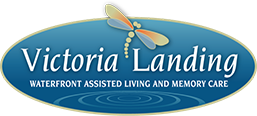 Victoria Landing Assisted Living is a rental community with incredible views of the Indian River and Historic Downtown Eau Gallie. Our Mission is to provide consistently excellent service to those we touch combining independence and personal care in a residential setting.