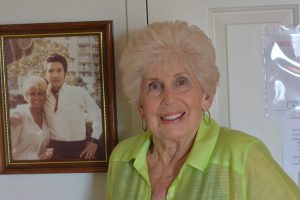 In 1969, 42 year old Loi Lu Calain had a chance encounter she will never forget.
After visiting her sister in Japan, she decided to spend a few days in Hawaii before returning home to Maryland. Her husband was babysitting their three sons.
On the Big Island, she befriended a woman from Canada who was staying at her hotel and the two ladies went to the beach together.
Loi remembers she was wearing a windbreaker atop her bathing suit as they were returning from the beach. The ladies stopped at the hotel's patio bar to have a cocktail and sat down at a table. Across the patio they saw the "King of Rock 'n' Roll", Elvis Presley.
Hawaii was a favorite destination of Elvis and where he filmed three movies: "Blue Hawaii" in 1961, "Girls, Girls, Girls" in 1962, and "Paradise Hawaiian Style" in 1966. His first visit was in the late 1950s and he would visit the Hawaiian Islands on many occasions.
Much to the ladies' amazement, Elvis came over and asked if he could join them. With his drink in hand he sat down and struck up a conversation. He asked where they were from; why had they come to Hawaii; where she worked. She recalls he was easy to engage in conversation.
This chance encounter was an amazing way to end Loi's vacation. Loi didn't have a camera but thank goodness her friend did.  "It's not like to today with cell phones and automatic cameras," she said.  Her friend took a photo of Loi with Elvis and mailed her a copy when she returned to Canada.
"Elvis was so handsome," said the former psychiatric nurse. "He was simply a beautiful person."
He was wearing dark pants, a white shirt and his trademark scarf was tied around his neck as well as several large rings, she recollected.
In reflecting why Elvis came over to their table, Loi believes it was because the ladies didn't approach him like other hotel guests. She liked his singing though wasn't a "crazy" fan.
The stunning blond doesn't attribute the chance encounter to her striking beauty either. She felt it was her motherly charm.  "You know he loved his mother," she added.
The King died in 1977, eight years after their encounter in Hawaii.  Loi said it's remarkable how many people celebrate his birthday in Memphis each year.
Of the many special mementos that Loi has in her Victoria Landing apartment including her collection of inspirational plaques, the picture with Elvis is one she cherishes most. She carries a smaller version in her wallet to remember the afternoon that their paths once crossed.