Our History is Yours
Carefree assisted living comes to life at Victoria Landing.
The Glimmer Of A Dream
In 2004, while John and Barbara Rumpel were visiting the area, they were driving west over the Eau Gallie Causeway when something caught John's eye. It was an 11-story building sitting tall and surrounded by the one- and two-story buildings that make up Eau Gallie. It was stunning with its majestic perch on the river's banks. John had to find out more. So the couple researched the property and discovered that the Melbourne Housing Authority had recently put the towers up for sale. The Rumpels were eventually able to purchase the towers from the City of Melbourne.
Building A Best In Class
Then it occurred to John and Barbara – why not use their real estate investment as an investment in their future, a sanctuary for senior living. John wanted to create a caring community that was worthy of a resident like his mother, Joya Paterson, who after a lifetime of achievements and acclaim, deserved a carefree, rewarding quality of life. At that point the vision of Victoria Landing a waterfront, resort-like, assisted living facility was born. John and Barbara Rumpel also make their home at Victoria Landing. The Rumpels will welcome you with open arms, but you must remember; you are not a guest, you are their neighbor.
Inspired By Loving Memory
Victoria Landing gets its name from Victoria Rumpel. Victoria was John's daughter who died tragically at the young age of nineteen in a scuba diving accident. John honors the memory of his daughter with the Victoria Landing name. With that honor comes the responsibility to make Victoria Landing the very best it can be…in commemoration of Victoria and in celebration of everything life can and should be. Life is simply too precious.
Choose from Four Spacious Luxury Apartment Floorplans.
And Start Every Day with a Spectacular View!
What Makes Victoria Landing in Melbourne, Florida Special?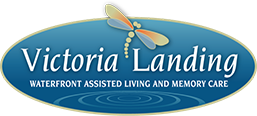 Victoria Landing Assisted Living is a rental community with incredible views of the Indian River and Historic Downtown Eau Gallie. Our Mission is to provide consistently excellent service to those we touch combining independence and personal care in a residential setting.