Coming to the realization that a loved one is in need of memory care can be very difficult.  It usually begins a process of many important decisions being made on behalf of your loved one.  At Victoria Landing, we understand what a difficult and stressful time this can be.  But, with our memory care area, The Boardwalk, you will feel confident that your loved one is receiving excellent care in a beautiful environment.
Memory Issues Affect Us All
We all become more forgetful as we age, having what we may refer to as a "senior moment."  In fact, there are multiple stages in life which can lend to memory issues.  One well-known time of life is during pregnancy and beyond.  These memory issues are often referred to as "pregnancy brain" or "mommy brain."  And, it is real.  There are physiological changes to a woman's brain during pregnancy which have been shown to last up to two years or even longer.
After that point, many women may still experience memory issues as their brains are on "overload" keeping everyone's schedule straight, running everyone around to different activities, working, and generally doing the myriad of things that moms do!  This type of "overload" can happen to anyone who has too much on their plate.
This type of forgetfulness can also occur when someone is experiencing emotional stress due to trauma or difficult life circumstances.  There simply seems to be times that our brain "turns off" certain areas in order to cope with the current situations.  Sometimes, our memory is a temporary casualty of those brain changes.
Are Dementia and Alzheimer's Different?
Temporary memory issues do not require long-term care, but sometimes memory issues are permanent and degenerative.  Dementia and Alzheimer's are the two most well-known causes of permanent memory issues.   The terms are often used interchangeably, but these disorders are not the same, and it is important to understand the difference.
Neither dementia nor Alzheimer's is caused by age.  They simply tend to occur in older people.  Dementia is caused by damaged brain cells.  Dementia can even occur from a traumatic brain injury.  Alzheimer's Disease is the most common type of dementia.  But, not all dementia is Alzheimer's.  Alzheimer's is a degenerative brain disease.
What Does Victoria Landing Offer Memory Care Residents?
Victoria Landing is a luxury retirement community offering senior living, assisted living, and memory care.  It is located in Melbourne, FL on the Indian River, just three miles from the beautiful Atlantic Ocean beaches.  Our memory care community is called The Boardwalk.
The Boardwalk offers 28 private studio apartments so your loved one still has a sense of independence and their own personal space. The studio apartments include a bedroom/living area with room for a bed and comfortable chair, as well as a bathroom.  No kitchen is provided for the safety of our memory care residents.
We offer delicious, chef-prepared meals to ensure your loved one is getting the proper nutrition each day.
The Boardwalk includes advanced security measures for the residents' safety as we know that they may become confused or disoriented. We have specially trained staff and 24-hour support so they are always safe.
We offer assistance with the activities of daily living and medication management.
We have a beautiful outdoor area with strolling paths where our Boardwalk residents can enjoy the beautiful coastal Florida weather.
We offer social activities, as well as activities to help with brain function.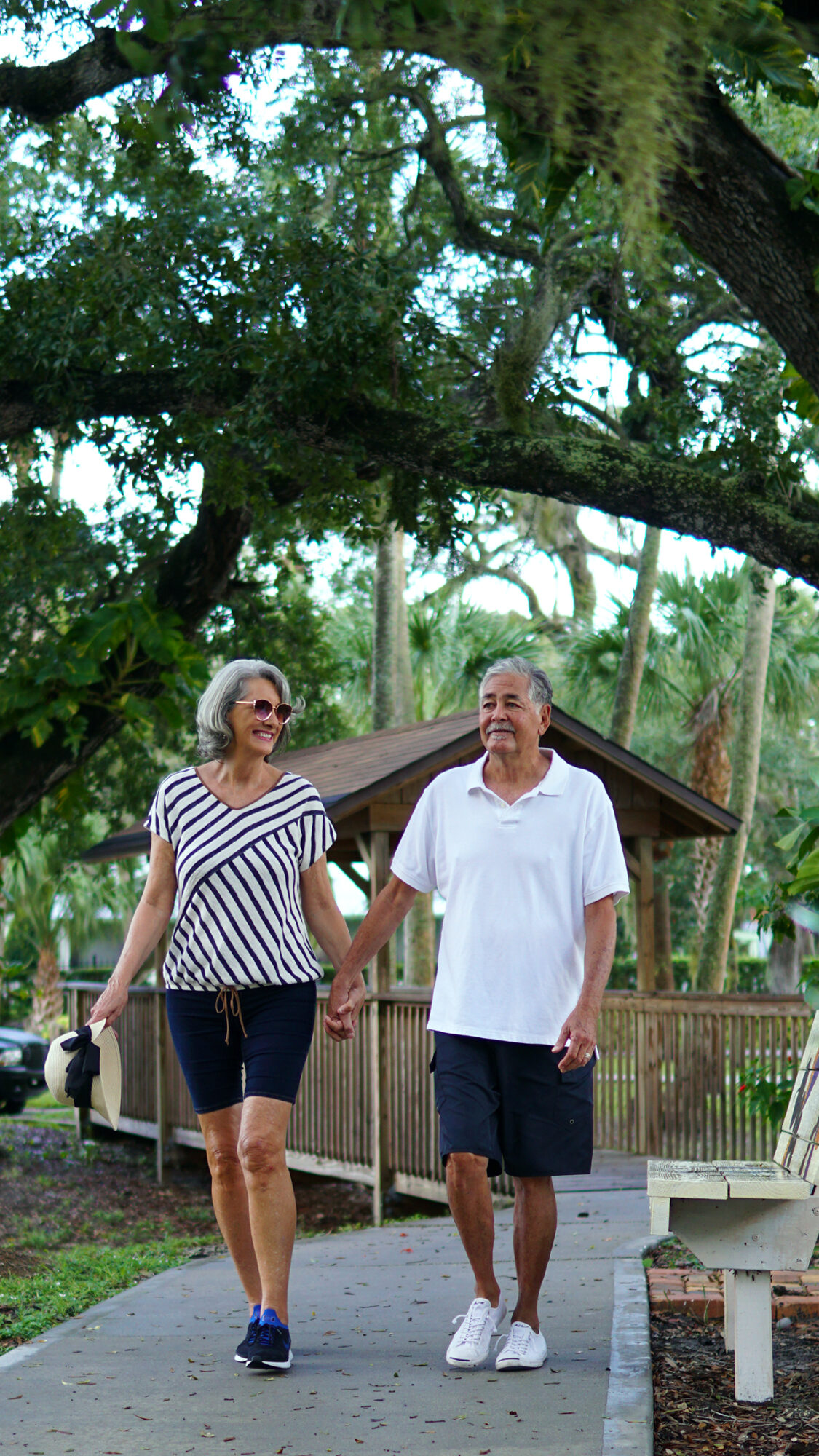 Boardwalk Activities
At Victoria Landing's Boardwalk, we offer wonderful activities for our memory care residents.  For both physical and emotional well-being, we offer activities such as exercise and aromatherapy. We have even brought in a petting zoo to the courtyard.  Because it can be familiar and comforting we offer activities such as Old Time Hymns on Sundays and Oldies Sitcoms and Snacks on Tuesdays.  We offer sing-alongs and game times.  We also offer games to help with physical and brain function such as the Alphabet Game, Balloon Toss, and Noodle Ball.
Victoria Landing is the Premier Community for Memory Care
With all that Victoria Landing's "The Boardwalk" offers, we are sure that you will feel confident in the care that your loved one is receiving – from highly-trained, caring staff to beautiful accommodations, to plenty of fun activities.  If you would like to explore Victoria Landing, you can schedule a tour.  Come see what a wonderful place it is and know that your loved one will thrive in our memory care community!